Expertise Opinion
The London Bombing and the US 9/11 Report both elucidate on the failure of Intelligence sharing and applicability of Intelligence has critical component in the tackling of Jihadist Movement operations including any hope of eradicating the violent extremism ideology.
It is interesting to note that the recent Paris attack provided further insight into how failure to share Intelligence and learn from security incidences happening around us could eventually affect us adversely.
Whether you like it or not, you will have to appreciate the British Intelligence service and the activities of their critical policy Intelligence network on how they operate and continue to enrich their resilience framework.
I also have to mention Tunisian and Israeli security services because they are very proactive; though there are one or two incidents that might happen - they are quick to intercept and disrupt terrorist cells before they become operational active.
The twin bomb blast incident in Cameroon and the bomb blast in a "reopened" Chibok Market place in Nigeria makes a mockery of our Intelligence network - Personally, if I have the privilege to advise the Nigeria DSS Chief; I would have called for the immediate suspension of the DSS officer responsible for that area - so that other security operatives would sit up.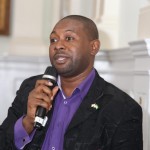 It is a recorded fact that 7% of Boko Haram activities affected educational institutions in Nigeria; thus I would have expected Cameroonian security operatives to be speaking to their Nigerians counterparts about lessons learnt.
The politics of Intelligence sharing in Africa will adversely impact on success recorded in tackling extremism in our continent.
Yesterday, I was privileged to share my thoughts briefly for 7 minutes on TV News with the Ndee Iheanacho Amaugo and Fadesola A. Sotinwa 'firing' the questions on the matter...
By Temitope Olodo.
About the Author
Temitope Olodo is a Preventive Terrorism Expert, Author and subject matter expert on Boko Haram.
He worked for Her Majesty Government for many years in sensitive security roles including the Office for Security and Counter Terrorism (OSCT) managing de-radicalisation project. A former Special Constable with Kent Police; he is currently the Chairperson of Nigeria Diaspora Security Forum which is a network of Nigerian Diaspora Security Consultants based in the United Kingdom
Temitope Olodo Esq
NDSF Chair
Nigeria Diaspora Security Forum
+447917 700 509